While Estethica creates a youthful image that will remove wrinkles and sagging with facelift, it also provides the dreamed image at facelift prices.
What Is A Facelift?
Facelift is the application that is done to remove the sagging and wrinkles that occur in the face area with the advancement of age, and to give the face a healthier and younger appearance. Since the first day human beings realized themselves, different ways have been tried to reduce the effects of gravity on the body and always look young. For this reason, from the past to the present, new discoveries have been made in many sectors and especially in the health sector in terms of aesthetics. While the shape called fox eyes attracted attention due to the fact that it is the front foot of the fashion sector, sometimes makeup styles that make the facial contours obvious drew attention.
Nowadays, with the prominence of naturalness, it becomes possible to lift eyebrows not only with makeup, but also with a pronounced jawline and aesthetics without the need for any makeup. With the increase in the use of advanced technological devices in the 21st century, the permanence of the skin is ensured with both a healthy and natural appearance, as well as a youthful and aesthetic appearance.
What Is A Non Surgical Facelift?
Non-surgical facelift, which is defined among the medical aesthetic applications, is the whole of the procedures that provide the treatment of sagging under the skin without the need for anesthesia, which does not require any stitches or without incisions. After the non-surgical rhytidectomy procedure, she can continue her work or daily life.
What Is A Rhytidectomy?
Facelift, also known as rhytidectomy, is the process of repositioning the relaxed muscle to eliminate sagging caused by aging and loss of elasticity of the muscles. If there are deep folds in the corners of the nose and mouth, it is performed depending on the drooping of the cheeks, neck, general lines and faceRhytidectomy is the process of detecting and stretching the wrinkles and sagging on the face, planned specifically for the person, to change sunspots or skin color.
What Is A Mini Facelift?
Mini facelift is the process of stretching the excess skin by making fewer incisions on certain points of the face and neck. In the mini rhytidectomy procedure, it is performed by targeting the cheek, jowl and lower part of the face. As a result of the procedure, signs of aging, sagging are eliminated and the elasticity of the skin is increased.
What Is A Deep Plane Facelift?
Deep plane facelift is a deep tissue and wide view planning procedure. In this procedure, the incision is made by opening the incision starting from the temple area, all the way around the ear and into the hairy area. It is generally applied to the entire face area or upper neck area in people aged 50 year and over. In the deep plane application, it ensures the removal of excess skin, lasts for a long time and has a natural skin rejuvenation effect.
What Is A Ponytail Facelift?
Ponytail facelift is the process of pulling the subcutaneous ligaments upwards to reduce or adjust the sagging of the face by making an incision above the ear, above the face or on the hairlinesUnlike other facelift applications, in order to tighten the face in the ponytail facelift application, the tightening does not need to be close to the desired area. It removes sagging on the face, eliminates wrinkles and makes the face look younger. For the best results, professional and experienced doctors such as estethica plastic surgeons should be preferred.
What Is A Liquid Facelift?
Liquid facelift is the process of injecting fillers such as hyaluronic acid that benefit the skin under the skin in order to eliminate the sagging and wrinkles that occur with aging. Thanks to this application, sagging is eliminated, wrinkle lines disappear and a younger appearance is provided.
What Is A Vampire Facelift?
It is the process of injecting both plasma and hyaluronic acid filler to the person's face by separating it from the plasma in the person's own blood. Existing wrinkles are eliminated without the need for local or general anesthesia, and the skin is tightened and its elasticity is increased. Processing time takes a maximum of 2 hours. Short-term itching and swelling may occur after the procedure, and work and daily life can be resumed on the same day.
How Does A Facelift Work?
The incision is made according to the facelift method decided under general anesthesia or local anesthesia.
After the method suitable for the face is planned, the loosened muscles are tightened starting from the temple area.
By making tiny incisions towards the back of the ear or the hairy area, the drooping of the face is eliminated.
In eyelid operations and forehead lift surgeries, the operation is completed by making incisions on the forehead and eyelid area.
The patient stays in the hospital for one day for control purposes.
How Is A Mini Face Lift Done?
Under local or general anesthesia, it helps to destroy the jowls that have just started to form and to tighten the lower cheek. It is started by making incisions on the sideburn area and the front of the ear, and the tissue under the skin is lifted upwards and compressed. Within 2 weeks after the procedure, the edema on the person's face decreases. After 3 weeks, exercise and sports are continued.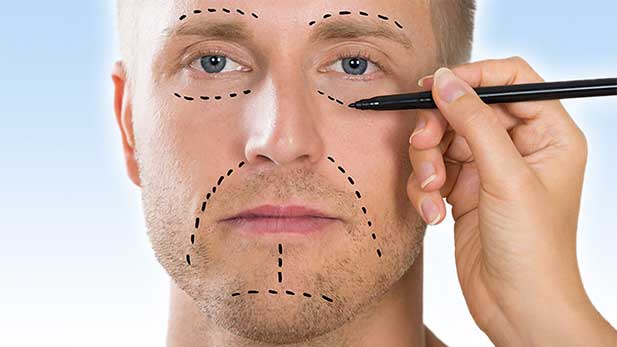 Which Procedure Is Also Known As A Face Lift?
Facelift is also known as rhytidectomy. Both terms are used both medically and colloquially.
What To Do Facelift Before And After?
Before the facelift, first of all, the needs of the person are determined by skin analysis.
The facial anatomy of the person is examined, the facelift method is performed in line with the patient's expectations.
Consumption of foods such as blood thinners, vitamins, garlic, turmeric, cherry, kiwi should be stopped at least 5 days before the surgery.
Before and after the facelift, harmful substances such as cigarettes and alcohol should be interrupted for a while.
After Rhytidectomy, swelling and bruises occur on the face. Ice should be used to reduce swelling, bruising and edema.
Care should be taken to use the recommended drugs regularly.
If the face is in contact with water for 2 days after Rhytidectomy, it should be avoided and no shower should be taken.
Care should be taken to make soft movements while applying make-up or hair care.
Sunscreen should be used regularly and activities such as sauna or steam bath should be avoided for 6 months.
Sexual intercourse should be avoided for at least 2 weeks after facelift surgery.
What Is Disadvantages Of Thread Lift?
After thread lift, bruising, itching, redness, pain or tenderness are observed on the face. However, it passes in a short time. The important thing here is to protect the thread lift area from harmful factors. Over time, a more natural and tense face is obtained.
How Long Does A Face Lift Last?
Permanence is provided for up to 20 years after rhytidectomy operations. But the only factor preventing this will be getting old. Apart from this, thanks to the operation, the elasticity of the skin increases and a more natural, more youthful-looking aesthetic face is achieved.
When To Get A Face Lift?
There is no set time for a facelift procedure. The person can have it done whenever they want and whenever they feel ready. However, regardless of the season, it should always be protected from the sun.
How To Massage Face After Face Lift?
In order to be able to massage after facelift surgery, it should first be determined whether there is any crusting or bruising. If there is crusting or bruising, the healing process should be waited for to apply a massage. While performing facial massage, care should be taken to do as the doctor recommends and it should be done with creams.
When Can I Sleep On My Side After Face Lift?
During sleep, care should be taken to sleep on the back as much as possible without turning the face to the right or left. The sleeping position by turning on its side is changed after 2 weeks or 4 weeks.
How Long Does İt Take To Recover From A Face Lift?
The full recovery process after facelift is completed 4 weeks or 6 weeks after the surgery. 90% of the edema on the face disappears and there are no swellings and bruises.
How To Get Rid Of Lumps After Face Lift?
For this, the patient is recommended lymph drainage massage to accelerate recovery after surgery. Thus, it is observed that summer marks, lumps, bruising and swelling disappear rapidly.
How To Reduce Swelling After Face Lift Surgery?
Swelling and bruises that occur on the face after facelift surgery disappear after a maximum of 72 hours. In order to support this healing, edema-reducing foods should be consumed and beverages that prevent healing, such as alcohol, should be avoided.
How Long To Wear Chin Strap After Face Lift?
Using the chin band for at least 2 weeks after the surgery helps to relieve swelling and reduces the effect of every gravity on the face. It should always be worn while eating, showering, sleeping.
Where To Do The Weekend Plastic Surgery?
It should be noted that the best plastic surgery doctor is preferred. For this, hospitals that perform The weekend plastics such as estethica should be preferred.
What Is The Best Age To Get A Face Lift?
In order to perform face lift surgery, the biological age must be suitable for this. For this, it is recommended not to all individuals who are considered adults, but generally at the age when sagging and wrinkles begin to form. While this age is 25 for some, it starts at the age of 30 for some adults.
Why Wear A Compression Garment After Face Lift?
The purpose of wearing the compression garment is to keep the skin smooth by promoting healing. When wearing a compression garment, care should be taken that it is not too tight, it should not interfere with blood circulation, it should only be used as supportive pressure.
How Much Is A Facelift Cost 2022?
Facelift cost varies according to the preferred face lift application and the preferred institution in 2022. The most important point to be considered while choosing an institution should be the evaluation of the institution's performance and price balance. In this direction, experienced institutions that aim at healthy beauty and bring people closer to their dreams and expectations should be preferred.
How Much Does A Mini Facelift Cost?
In Mini Facelift cost evaluation, a decision should be made by evaluating the previous operations and success level of the institution.
Operation length

2-5 hours

Discomfort Period

1-3 days
WARNING: Everyone is unique.That means that the treatment length, planning and results may be differ The information you see here are the resulting average from a large range of samples..
---
Before and After
Before and After of our patients
Face Aesthetics
Face Aesthetics
Face Aesthetics
Face Aesthetics
Meet with Dr.

est

ethica
You can consult any subject you wonder about healthy beauty.
Patient Reviews
The long-term satisfaction of our patients is our top priority.
Nicole F.
Nose Job (Rhinoplasty)
I had rhinoplasty at Estethica. I am happy that I chose this institution. Starting from the reception at the hospital, his warm and professional approach made me feel like I was in the right place. I would like to thank my doctor and my advisors in the Department of Plastic Surgery. I am so happy.
Jully U.
Nose Job (Rhinoplasty)
I asked my doctor for natural nose, he gave more. Although only 3 months have passed, a perfect nose has emerged. Thank you here too.
Julia E.
Nose Job (Rhinoplasty)
I had rhinoplasty 2 weeks ago and I was very satisfied. I would like to thank my doctor and counselor who took care of me. She was very nice and engaged. Thank you for your interest.
Anna R.
Nose Job (Rhinoplasty)
I had nose surgery here. I have a curved little nose just the way I want it. I had a very comfortable night. The floor nurses were very caring. The departmental consultant is a genuinely caring person who follows his job closely. I want to thank everyone who came back to me with every call, motivated me and helped me in this process...
Rosa P.
Nose Job (Rhinoplasty)
I had a nose surgery here and we went through a very simple process together. We are very pleased with the interest and concern shown by the hospital, I would like to thank my doctor and plastic surgeon.
Beatrix K.
Nose Job (Rhinoplasty)
I would like to thank my doctor who successfully performed my rhinoplasty surgery at Estethica Hospital and the specialist of the department for their interest and support throughout my procedure, and wish them success in their duties.
Robert Q.
Nose Job (Rhinoplasty)
First of all, I would like to thank my doctor for this perfect nose that fits my facial features. The nurses at the hospital and everyone at the reception were very friendly and nice people. A multidisciplinary review was performed on the day of surgery. I think everyone is doing their job with love and in the best way.
Brian X.
Nose Job (Rhinoplasty)
I had rhinoplasty at Estethica. I didn't think I would have such a quiet day. Everyone from the nurses to the ground attendants was very interested and confident. They were very interested before and after the surgery, especially the plastic surgeons, with their smiling faces and sweet tongues, all my fears were removed. I calmly accepted the operation with interest and concern. The doctor's smiling face and sweet language erased all my fears. I want to thank everyone, from the nurse to the housekeeper, to the doctor, to the head of the department. A hospital where you can go without fear...
Kenneth A.
Nose Job (Rhinoplasty)
I had rhinoplasty with my sister and I was very satisfied. The doctor and all the other staff were very interested. They were very friendly and helpful. Thank you all.
Jake I.
Nose Job (Rhinoplasty)
Definitely a clinic and team that deserves 5 stars or more. First of all, I would like to start with the smiling doctors. It is very motivating when you are greeted with a smiling face when you enter. I made an appointment with Estethica on someone's recommendation. I went to many places for rhinoplasty, but the energy of this hospital was better. The nurses were very attentive on the day of surgery. I'm happy. I'm on day 6 and feeling great. Thanks Estethica family
Frank S.
Penis Enlargement Surgery
I was incredibly satisfied. All employees are very hospitable, high energy, professional, I definitely recommend. I will definitely come again, thank you very much to the estethica family.
Alex N.
Penis Enlargement Surgery
I would like to thank my doctor for removing all my worries about laser and making me feel incredibly comfortable. I would also like to thank the consultant lady who accompanied me for her incredible energy and meticulousness to her work. I would recommend it to everyone.
Jonathan F.
Penis Enlargement Surgery
I went with the recommendation of a friend and I was very satisfied. An institution that provides quality, clean service. Employees serve with a smile. Prices are also good. I advise.
Robert C.
Penis Enlargement Surgery
I was very satisfied with my surgery. My doctor patiently and sincerely answered all my questions both during the decision-making phase and afterwards. I had a painless and painless process. I would like to thank my doctor and nurse who helped me a lot with their interest and smile.
Michael A.
Penis Enlargement Surgery
During the operation, my doctor was very caring, sweet and expert in his job. I was very satisfied with my consultants and my doctor. Thank you all.
Faysal
Liposuction
I feel totally great about my liposuction treatment. After the consultation appointment and recognizing how professional and personable the staff was, I knew that this was the right place for me.. When I know I look good, I tend to be more assertive than before. Estethica gave me that self-esteem back again. End of story.
Nathalie
Breast Aesthetics
I was extremely satisfied with my experience because I felt that the staff went beyond my expectations to ensure that I had a wonderful surgical procedure. I knew that they had the medical credentials or I would not have chosen them. It was the attention to even the smallest details that set them above the rest. I can only say positive things about my experience with Estethica and can truly recommend them.
Valerie
Rhinoplasty
To be honest, I was very scared for my rhinoplasty operation. It was a very diffuclt decision for me to make. After getting in contact with the great team of Estethica, I was informed about anything and everything, therefore I felt extremely relieved and decided to visit Istanbul to get my operation done. I must say I'm very happy with how my nose looks. Estethica is magnificent in all aspects, team is very professional and I had a great deal of attention from when first stepped foot in Istanbul till I flew back home. I want to thank everyone who helped me along the way.
Fill in the Form
We call you immediately